Uzbekistan, Israel experts discuss the state and prospects of developing bilateral ties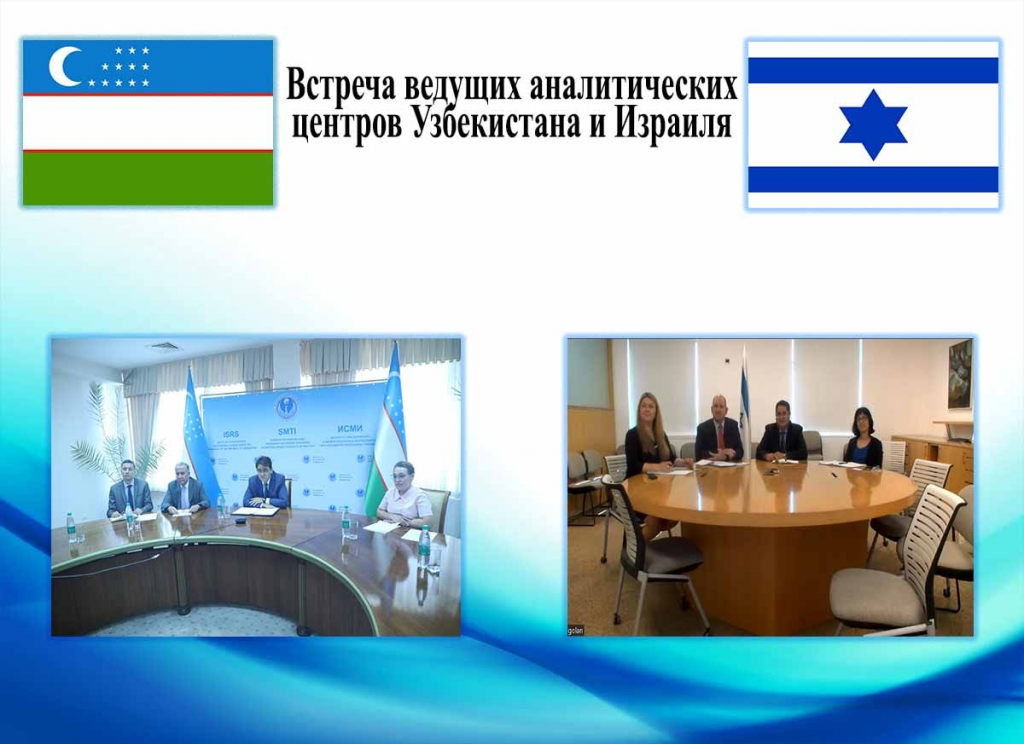 A virtual meeting took place between the Institute for Strategic and Regional Studies (ISRS) under the President of the Republic of Uzbekistan and the Center for Political Research of the Ministry of Foreign Affairs of Israel with the assistance of the Embassy of Uzbekistan in Israel.
The parties exchanged views on the current state and prospects of relations between Uzbekistan and Israel, and discussed the development of cooperation between the analytical centers of the two countries.
Ambassador Extraordinary and Plenipotentiary of Uzbekistan to Israel Feruza Makhmudova emphasized the importance of maintaining ties between the expert and analytical circles of the two countries as they give impetus to the development of friendly relations.
ISRS Deputy Director Bobur Usmanov noted that Uzbekistan and Israel, despite the considerable distances between them, are connected by historical and cultural proximity, traditional friendship and close cooperation.
According to him, the development and strengthening of mutually beneficial and comprehensive relations with Israel remain one of the priorities of Uzbekistan's foreign policy.
In turn, Department Director at the Israel Center for Political Research Ofer Moreno stressed that Israel considers Uzbekistan as the most important promising partner in Central Asia. The consistent reforms and significant changes observed in Uzbekistan have a positive impact on the development of relations between the two countries.
At the meeting, the parties noted that this year Uzbekistan and Israel celebrated the 30th anniversary of the establishment of diplomatic relations. During this period, the two countries have developed multifaceted relations in various areas of cooperation.
The significant progress achieved within the framework of the trade-economic partnership between the two countries was emphasized. At the same time, the establishment of the Israel – Uzbekistan Chamber of Commerce in 2021 was an important step in bringing the business circles of the two countries closer together and taking concrete measures to increase economic cooperation.
The priority of strengthening fruitful cooperation between Uzbekistan and Israel is also the implementation of joint projects in important industries of industrial production, ICT, agriculture and services.
During the webinar, the experts also noted the importance of creating effective mechanisms of expert interaction that could contribute to the further development of relations between Uzbekistan and Israel.
Following the event, representatives of the ISRS and Center for Political Research expressed their readiness to continue the dialogue and exchange views to elaborate proposals to develop cooperation between Uzbekistan and Israel in all promising areas of the bilateral agenda.
The Center for Political Research is an analytical center of the Ministry of Foreign Affairs of Israel established in 1974. The main tasks of the Center are to collect and analyze information that is important for Israel's international relations and security.
UzA