President Shavkat Mirziyoyev meets with Italian businesspeople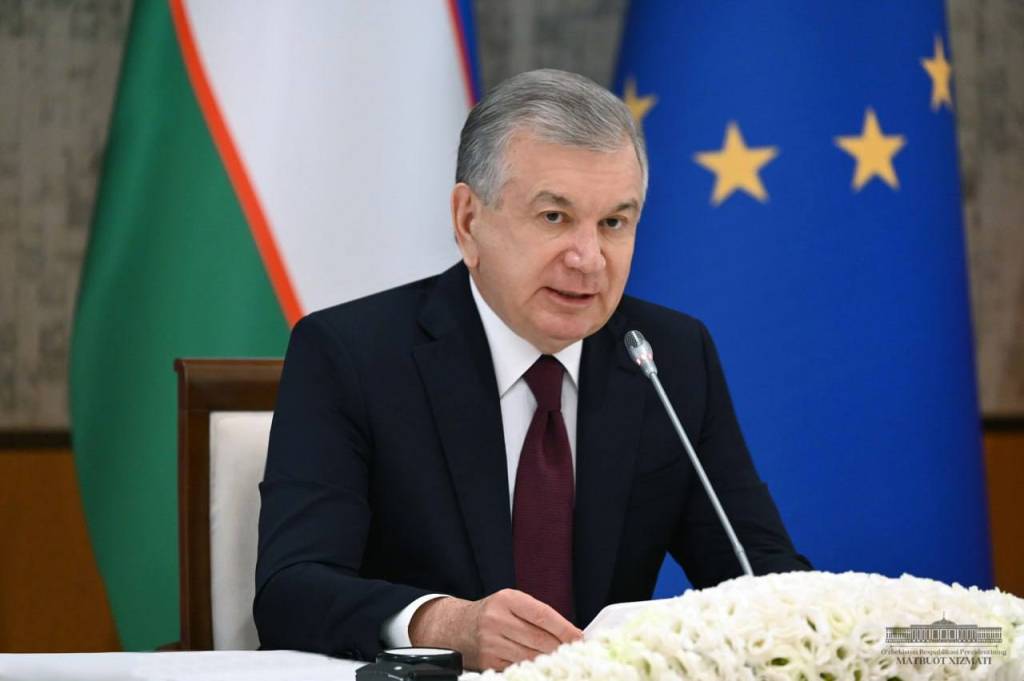 As part of the business program of the official visit to the Italian Republic, the President of the Republic of Uzbekistan Shavkat Mirziyoyev met with Italian investors and representatives of large businesses in Milan.
At the meeting, the Italian side was attended by the Lombardy Governor Attilio Fontana, President of the Italy – Uzbekistan Chamber of Commerce Giorgio Veronesi, as well as more than 25 heads of leading companies and corporations, associations, and financial institutions, such as Eni, Enel, Pietro Fiorentini, Saipem, Energy System, Imagro Group, HT Holding, Danieli, SACE, Ferroli Group, Arsenale Group, Pirelli and others.
"This is my first visit to your amazing country – one of the most ancient cradles of world civilization, the center of the richest cultural heritage and high technologies, a source of inspiration for many generations of artists and poets", the President noted. – It is symbolic that Milan became the place of our meeting – a modern economic pole where active business life is in full swing, innovations and technologies are born, and new industries are developing.
It was noted with satisfaction that economic cooperation between Uzbekistan and Italy has been developing dynamically in recent years. The number of joint ventures with the participation of Italian capital in Uzbekistan has doubled. The volume of mutual trade is expanding at a steady pace. Several collaborative projects in electrical engineering, metallurgy, and infrastructure development are being successfully implemented.
The Head of state described the high-level talks held the day before with the President of the Italian Republic Sergio Mattarella, and Prime Minister Giorgia Meloni as fruitful and constructive.
"We opened a new era in the history of relations between our countries, raising them to a strategic partnership. We agreed to enhance trade and economic cooperation, create comfortable conditions for business, introduce flexible mechanisms for financing joint projects, and support your initiatives in every possible way. We also outlined guidelines for developing industrial cooperation", Shavkat Mirziyoyev emphasized.
Representatives of Italian businesses can significantly contribute to implementing all the agreements reached. Moreover, the interest of Italian investors in Uzbekistan was confirmed by a joint business forum held on the eve of the visit, which was attended by about 300 representatives of the two countries' business circles.
Several new investment and trade agreements worth more than 9 billion euros were concluded. These are large-scale cooperation projects in energy, gas chemistry, oil and gas, metallurgy, chemical, textile, and agriculture.
At the meeting, noting the importance of a constructive and open dialogue based on the principles of trust and respect, especially against the backdrop of deep shocks in the global economy and disruption of global supply chains, President Shavkat Mirziyoyev expressed Uzbekistan's readiness to provide Italian businesses with broad support measures and an effective platform for their activities in the country.
The President dwelled separately on the reforms and transformations carried out in Uzbekistan. Thus, consistent work was noted on introducing free market mechanisms, ensuring healthy competition and the inviolability of private property, supporting entrepreneurship, introducing an effective public administration system, and other positive changes that create the most comfortable conditions for doing business.
"Today, we have created all the conditions for the development and prosperity of your business. Stability, reliable guarantees, and a favorable investment climate have been ensured. I invite each of you to visit our country and see that New Uzbekistan is a unique country with limitless opportunities", President Shavkat Mirziyoyev said.
It was emphasized that the synergy effect from combining the rich natural resources and qualified personnel of Uzbekistan with the technological and industrial potential of Italy would allow for jointly producing value-added products and exporting them to the markets of third countries.
In this context, the most promising areas for joint work are energy, food, and textile industries, agriculture, chemistry and automotive, electrical engineering, and many others.
Views were exchanged on plans to enhance the partnership. Italian businesspeople highly appreciated the effectiveness of the reforms being carried out in Uzbekistan, which create the basis for developing cooperation with business representatives in the long term.
It was noted that Uzbekistan is a strategic partner for Italian companies, opening up opportunities for working with a promising region of Central Asia.
Italian businesspeople and investors voiced specific proposals and plans for implementing joint mutually beneficial projects in Uzbekistan, including introducing high-tech and innovative solutions.
For example, they discussed the expansion of interregional cooperation programs with the Lombardy region, promising projects for the modernization of the gas distribution system in Uzbekistan and electrical distribution networks in the city of Tashkent, the technological re-equipment of the Tashkent Thermal Power Plant, the construction of several plants, including waste incineration with electricity generation in Tashkent region, purification of potassium chlorine, production of potassium hydroxide, melamine, production of building materials, agricultural machinery, expansion of saffron plantations, increase in production capacity of Uzmetkombinat JSC, creation of the Center of Italian Technologies and Innovations together with the Turin Polytechnic University and others.
Agreements were reached on training personnel in the industrial sector.
The Leader of Uzbekistan instructed to include each initiative announced during the meeting in a comprehensive action plan. The heads of ministries and agencies of Uzbekistan were instructed to provide all possible assistance to Italian partners in implementing current and new projects in the country.
UzA